Did you know that the Automotive Recyclers Association, or ARA for short, is the voice of the automotive recycling industry including auto salvage yards in MA and across the country? The ARA has gone a long way in establishing a set of rules and regulations that automotive recyclers must follow. Of course, these rules and regulations have many beneficial effects on society. Those effects are including helping the economy, promoting jobs, and protecting the environment. 
The ARA is fully dedicated to ensuring that recycled auto parts are properly removed from vehicles that no longer operate. The ARA is committed to making certain that the original manufactured auto parts that are removed from vehicles. They also see that these parts are properly recycled. That way, consumers do not need to worry about the recycled auto parts working when installing them in their vehicles. In essence, the ARA goes a long way in helping consumers by ensuring that their members are conducting business properly.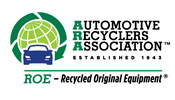 The next time you're at a local salvage yard, like Robertson's Auto Salvage, make sure that they are members of the ARA. If not, you simply cannot trust that their recycled auto parts are up to par. Here's an interesting fact for you to think about. A recent Worcester Polytechnic Institute study looks at how auto recyclers affect the carbon footprint in Massachusetts.  The study states that salvage yards that are members of the Automotive Recyclers of Massachusetts, process over 165,000 vehicles per year. Automobiles are the most recycled item in the United States. 
The ARA also helps the job market. When your local salvage yard joins the ARA, they must follow the highest standards when conducting business. Those high standards help them beat the competition, which means they stay in business longer. In fact, ARA members employ well over 140,000 people at approximately 9,000 businesses across the country. The ARA also helps the economy by helping consumers save money on auto parts.
Robertson Auto Salvage
We have been supplying local businesses and consumers' quality recycled automotive parts since 1969. Our extended warranties are valid on many recycled auto parts. We pay top dollar for junk cars in Southeastern Massachusetts. 
Robertson's Auto Salvage also sells a wide range of recycled auto parts. These parts include rear bumpers, front and rear driveshafts, mirrors, wheels, headlamps, and fuel sending units. We look forward to working with you.